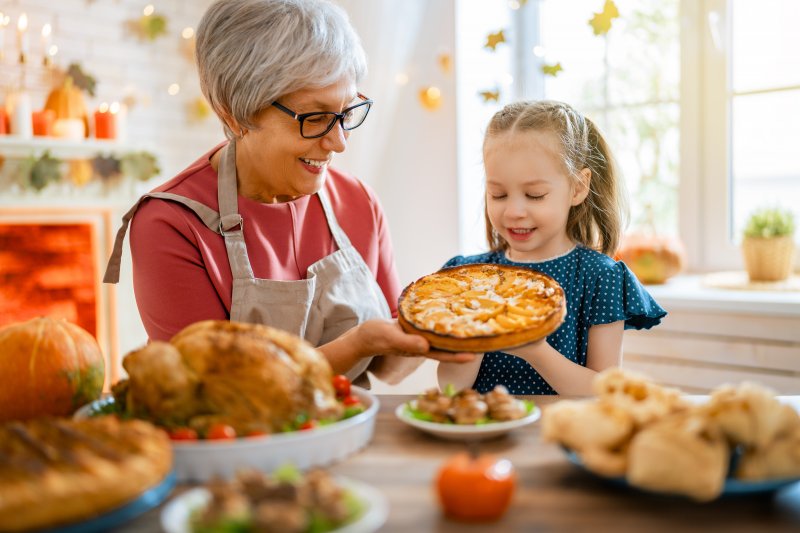 With Thanksgiving and Christmas just around the corner, you are probably looking at quite a few delicious meals to catch up with your friends and family over. However, as scrumptious as some of these dishes are, you certainly don't want to be worried about damaging your dentures. The good news is that your dentist is here to help. Continue reading to learn which dishes to avoid and what you can splurge on throughout the holiday season when you have dental restorations.
Which Holiday Foods Are Best to Avoid When You Have Dentures?
Even though you are looking forward to piling all sorts of foods on your plate this Thanksgiving, some are definitely best to avoid if you have dentures or other dental restorations like dental bridges or implants. Here are some foods to be weary of:
Chewy meats: While more tender meats are a great option, chewier, tough meats can be a bit too much on your dentures. This is because they need to work much harder in order to get the bites broken up enough in order to it swallow safely. You could end up with instability or dislodge your dentures.
Sticky sweets: Even though that pecan pie and cranberry sauce looks delicious, they are quite sticky and can cling to your dentures. This makes it difficult to keep them clean, leads to difficulty chewing, and you could even displace them.
Hard foods: Many dishes, like steamed mixed veggies and mashed potatoes may not be difficult for you to chew with your restoration, but other foods like raw veggies and mixed nuts can make it difficult for you to keep your dentures in place. Remember to stick to softer foods.
Tips to Enjoy the Holidays with Dentures
Here are a few ways that you can enjoy your holiday meals more easily if you have dentures:
Take small bites: As delicious as the food may be, there is no need to take bites that are too big. Take small bites instead so that you are able to thoroughly chew your food more easily.
Eat slowly: Many of us tend to get ahead of ourselves when we are feasting on Thanksgiving dinner, but this doesn't always go very well when you have dentures. Remember that there is no reason for you to get your food down as quickly as possible. Take your time so your restorations do not suffer.
You don't need to let your dentures get in the way of your fun holiday plans. By being weary of certain foods and taking the right steps, you will be able to enjoy your holiday meals without having to worry about your restorations.
About the Author
Dr. Rupeshwar Renkuntla is an experienced dentist who has been working in the field for nearly 20 years. After earning his Bachelor of Dental Surgery in India, he moved to the United States and pursued his Doctor of Dental Surgery in Oklahoma. He is currently a member of the American Dental Association and the Texas Dental Association. For more information on dentures or to schedule an appointment with Dr. Renkuntla at his office in Saginaw, visit his website or call (817) 989-2832.