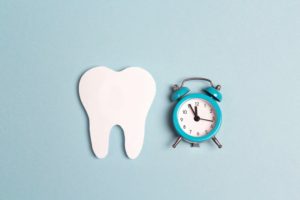 Over the last six months, you haven't had any complaints about your teeth. No pain, no sensitivity—nothing. Yet, during your dental appointment, your dentist says it's time to replace one of your dental crowns. Can it really be time for dental crown replacement? How can you know that the time is right for a new restoration? In this post, you'll learn how to recognize the signs of a dental crown needing to be replaced and how to make your crowns last as long as possible.
Signs Pointing to Replacement
When your dentist looks at your crowns, they are watching out for the following:
Age of the Crown
Dental restorations have a limited lifespan. In fact, most dental crowns are designed to last up to 10 years. After that point, your crown may be on borrowed time and more prone to fail. Once they reach a certain benchmark, it may be time to retire the old crown and bring in a new one.
Pain or Swelling
Did you know that bacteria may be more likely to accumulate at the base of a tooth with a crown than a natural tooth? As a result, the gums surrounding the tooth or even the tooth itself may become infected. Issues like gum disease and cavities may be the result of an improperly placed crown or a lack of diligent hygiene. Without treatment, the problem could escalate, causing you pain or your gums to swell and then recede. Depending on your situation, your dentist could potentially salvage the crown, but replacement may be necessary.
Damage to the Crown
Your porcelain crown may be tough, but it is not indestructible. The force exerted from your bite can cause normal wear and tear on your crown over time. If you're careful and take good care of your crown, it can continue to last for years before it requires replacement. However, if your crown somehow cracks or breaks, it exposes your tooth to bacteria and the risk of decay, which means you need to replace the crown.
Ways to Make Your Crown Last
Although you can't hold onto your crown forever, there are plenty of ways you can elongate its lifespan:
Brushing and flossing every day. By doing these simple tasks on a daily basis, you can help prevent plaque buildup.
Visiting the dentist regularly. During your routine checkups, your dentist can examine your restorations to make sure they are in working condition. Then, the cleaning removes hardened plaque that can lead to more serious problems.
Avoiding chewing ice or hard things. Your crown can only withstand a certain amount of force before it fails. By not chewing on ice and other hard foods or objects, you can reduce the wear and tear on your crown.
Whether you notice the signs on your own or your dentist points them out, it's important to keep a close eye on your dental crowns. That way, you can continue to use them and have a strong, beautiful smile for years to come.
About the Author
Dr. Rupeshwar Renkuntla has been practicing dentistry for more than 20 years so far in his career. Before obtaining his degree in Oklahoma, and even afterward, he volunteered at the Crossing Church Community Clinic. He is now the owner and operator of Saginaw Dental and proud to bring high-quality dental care to families in the community. If you have questions about your dental crowns and want to schedule an appointment with Dr. Renkuntla, you can contact Saginaw Dental by clicking here.