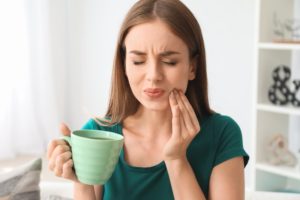 A toothache can be incredibly surprising, turning a perfectly good day into a stress-filled and painful situation. However, this doesn't have to be the case! With the proper know-how, you can be prepared if you ever have sudden dental pain. That's why your dentist has included the top 5 at-home remedies that you can use to make yourself more comfortable until you visit a professional.
#1. Rinsing with Salt Water
If you feel pain or irritation in a tooth, try rinsing your mouth with saltwater. This is often a good first line of treatment because it's a natural disinfectant, plus salt water can shake loose any lingering food debris stuck in your smile. It also reduces inflammation and promotes healing of oral wounds. To use this option, simply mix half a teaspoon of salt into a glass of warm water!
#2. Using Hydrogen Peroxide
A hydrogen peroxide rinse can help relieve pain and inflammation in addition to killing bacteria. For your oral health, it can actually reduce plaque and heal bleeding gums. However, you must ensure that you've properly diluted hydrogen peroxide before using it. Just mix 3% hydrogen peroxide with equal parts water and use it as a mouth rinse. Be sure not to swallow any of this mixture.
#3. Applying a Cold Compress
A cold compress or ice pack comes in handy especially when there is any type of trauma or injury contributing to your tooth pain. By applying a cold compress, you're causing your blood vessels in the area to restrict, which leads to less severe discomfort. As an added bonus, the cold will also reduce swelling that may occur.
#4. Numbing with Peppermint Teabags
It sounds strange but peppermint teabags can be used to numb pain in your teeth and gums. You can do this by allowing a used teabag to cool down to a slightly warm temperature before applying it to the affected area. You can also use the teabag to cool down the area by putting it in your freezer for a couple of minutes if you prefer a that sensation.
#5. Crushing Garlic
Garlic has been a treatment for tooth pain for literally thousands of years! When you're in a bind, you can crush a garlic clove to create a paste. Then, just apply it to the affected area to kill bacteria and experience mild pain relief.
By using these at-home remedies you can make yourself more comfortable. Just remember that there is no substitute for a visit to a professional. If your pain persists after trying some of the steps, contact your dentist to get proper treatment and back to smiling.
Meet the Dentist
Dr. Rupeshwar Renkuntla is a highly trained dentist who has all the services you need to get out of pain. He offers same-day appointments and sedation dentistry to make his emergency treatments convenient and relaxing. For any questions, he can be contacted through his website or by phone at (817) 989-2832.