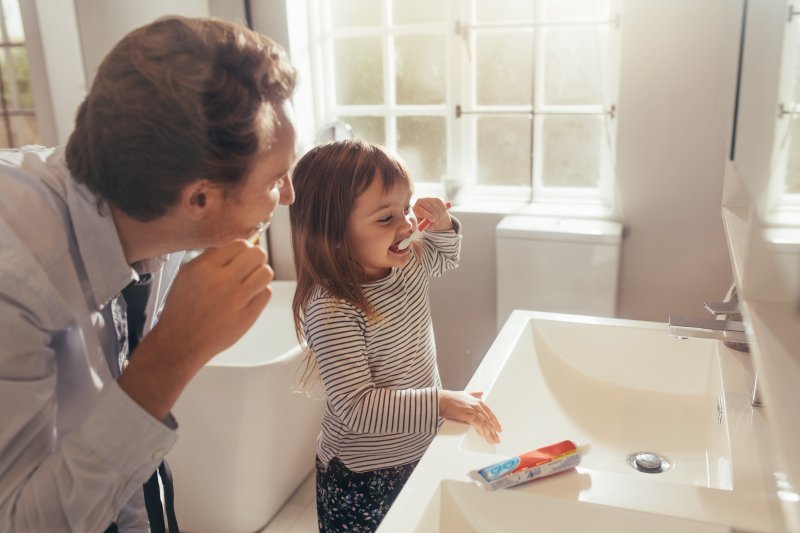 When you first think about February coming around, you probably have Valentine's Day in mind. But there is more than one reason to care for your loved ones during this time of year. February is also Children's Dental Health Month. As much as you try to teach your children about keeping their smile clean, it can be a challenge sometimes. A children's dentist suggests some fun oral hygiene products for kids in order to encourage excellent habits!
BrushyBall
In order to help make brushing more fun for your younger children in the family, you could try "BrushyBall." This bright-yellow, animated brushing coach will walk your kids through a 'follow the leader' game while they are cleaning their teeth. This is meant to help them to have excellent brushing habits. A fun interactive game may be all your child needs to improve the health of their smile.
Waterpik Water Flosser
You usually think of a Waterpik as a tool that adults use in order to freshen up their smile. But children can certainly benefit from them as well. Waterpiks can be especially helpful for kids who are going through orthodontic treatment in order to correct misalignment. Kids who have a hard time preventing interproximal cavities, or cavities between the teeth can benefit from them too. It even comes with stickers to make it even more exciting.
Electric Toothbrushes
While anyone can maintain excellent oral health by using proper technique and a manual toothbrush, many children (and adults) have an easier time with an electric toothbrush. They help people to remove more plaque on average. Many of them even include built-in timers that can help your child know exactly how long they need to be brushing.
GumChucks
Flossing is necessary in order to prevent periodontal disease and interproximal cavities. Unfortunately, this is a step that many people, including adults, fail to incorporate in their dental hygiene routine. In addition to that, some kids have a difficult time reaching all of the hard-to-reach areas in their mouth when they floss. GumChucks is a product that is made to address this issue. This dental tool looks like miniature nunchucks. It is a two-handled flossing system with disposable flossing tips meant to simplify flossing while helping your child to make the 'c-shape' that is recommended by dentists.
Oral hygiene isn't the most exciting topic for a child, but it is very important. These fun products may be what your children need to get excited about dental care!
About the Author
Dr. Rupeshwar Renkuntla is an experienced dentist who has nearly 20 years of experience in the field. He completed his Bachelor of Dental Surgery in India before coming to the United States where he earned his Doctor of Dental Surgery in Oklahoma. Currently, he is a proud member of the American Dental Association and Texas Dental Association. For more information or to schedule an appointment for your child with Dr. Renkuntla at his office in Saginaw, visit his website or call (817) 989-2832.