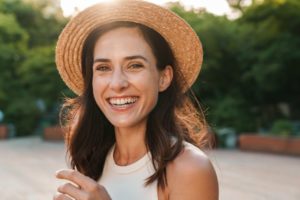 Fluoride is a naturally occurring mineral that is often used in oral healthcare for children. It fortifies teeth, making it an important part of dental care when smiles are developing. But did you know that this common dental treatment for kids can also help adults? It's true! You can reduce your risk of tooth decay and cavities by applying fluoride directly to teeth. But how is it done and is it right for you? Read on to learn the answers!
What Are the Different Types of Fluoride Treatment?
There are various ways you can receive fluoride treatment – at home or in your dentist's office. If you get professional fluoride treatment, it's very simple and quick. Your dentist or hygienist will dry your smile before applying the fluoride gel or foam. This can be administered with a tray that is worn for a few minutes, or fluoride can literally be painted on. This dental service is pain free and it comes in many flavors, making it tolerable for all ages.
At home, you can still enjoy the protection of fluoride by using gels that are prescribed to you based on your needs. More commonly, fluoridated toothpaste is an easy way for adults to stay healthy without an extra step in their dental routine. Plus, most tap water contains fluoride, making it effortless to get your necessary intake by drinking more H2O.
The Benefits of Fluoride for Adults
While fluoride does help younger people with their developing teeth, studies show that it's also beneficial for adults of all ages! When applied topically, like with toothpaste, mouth rinse, or a professional treatment, fluoride lowers the risk of tooth decay and cavities, helping your smile look and feel great. It's especially beneficial for older patients who suffer from dry mouth – known as xerostomia. Saliva naturally decreases with age, raising your risk of decay. However, fluoride and saliva help remineralize teeth to protect them.
How Do You Know if You Need Fluoride?
Usually, drinking fluoridated water and using fluoridated toothpaste is enough for adults to enjoy its advantages without overexposing their teeth. However, you can ensure your water is fluoridated by calling your local water district, or even having your H2O analyzed if it comes from a private well. The only way to know if you could benefit from professional treatment is to contact your dentist. After reviewing your past medical history and examining your smile, they'll be able to provide you with the best recommendation.
Who knew that fluoride could help all ages? Ask your dentist about this amazing treatment and remember these tips for at-home dental healthcare to stay smiling!
Meet the Dentist
Dr. Rupeshwar Renkuntla has almost two decades of dental experience, which he combines with his extensive training to treat patients of all ages in Saginaw. He offers fluoride treatment for children and adults to help them enjoy healthy smiles for years to come. If you have any questions, he can be contacted through his website or by phone at (817) 989-2832.