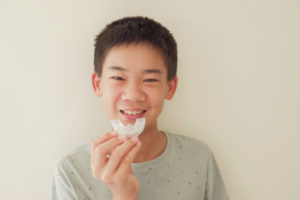 The American Academy of Pediatric Dentistry estimates that around 30 million kids take part in sporting activities every year. Is your son or daughter one of them? Whether they will be on the volleyball court or strapping on a football helmet, your child is going to need a mouthguard to protect their smile from injury. Accidents can happen when you least expect them! Keep reading to learn why the start of a new school year is the perfect time to invest in a custom mouthguard in Saginaw for your child.
Why Are Mouthguards Important?
Did you know that sports injuries contribute to one-third of all injuries to the mouth and face? A mouthguard can't prevent your child from accidentally getting hit in the face during an intense game. However, it can protect their teeth and mouth from serious damage.
Made of soft plastic or laminate, mouthguards prevent injuries by spreading impact out, reducing it across each area like an individual tooth. They also can absorb some of the force from a collision due to their soft material.
By investing in a mouthguard for your active child, you can potentially prevent severe dental injury that could cost thousands of dollars to treat.
Do All Sports Require Mouthguards?
The American Dental Association recommends wearing mouthguards when playing any sport that could lead to injury. Your young son or daughter should wear a mouthguard in Saginaw if they participate in:
Contact sports like boxing, mixed martial arts (MMA), football, rugby, lacrosse, and ice hockey
Team sports that involve incidental contact, such as basketball, softball, field hockey, wrestling, volleyball, and soccer
Action sports like skateboarding, snowboarding, skiing, and mountain biking
Types of Mouthguards
In general, the better the fit of your child's mouthguard, the better the protection they'll receive by wearing one. The three most common varieties of mouthguards are:
Stock mouthguards come in a range of premade shapes and sizes and are the cheapest option. However, they are often less comfortable and offer less protection than other types of mouthguards.
Boil-and-bite mouthguards are placed in boiling water first to soften them up. Then your child will bite them to leave an impression of their teeth. This type of mouthguard is a good middle-ground (in terms of cost and function) between stock and custom-made options.
Custom mouthguards from a dental professional offer the highest level of protection and comfort. Your child's dentist will take an impression of their teeth and gums, which is used to craft a mouthguard personalized to their unique bite.
Taking Care of a Mouthguard
With a little care and attention, your child can keep their mouthguard in tip-top shape throughout the school year. Essential tips for mouthguard care include:
After each use, rinse the mouthguard and brush with a toothbrush and some toothpaste.
Store it in a hard container with small holes to keep it safe from damage during travel or storage.
Avoid placing the mouthguard in hot water, on hot surfaces, or in direct sunlight, all of which could lead to warping.
Check regularly for jagged edges or warping. If this occurs, it's time for a new mouthguard.
Set your future athlete up for success and put your mind at ease by adding a custom mouthguard to your back-to-school list in Saginaw.
About the Author
Dr. Rupeshwar Renkuntla has nearly two full decades of experience helping patients of all ages preserve healthy smiles. He routinely creates customized mouthguards to protect teeth against sports injuries and bruxism. To learn more about the benefits of mouthguards, visit the Saginaw Dental website or call 817-989-2832.