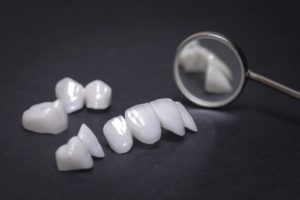 Your teeth are meant to last for a lifetime, but 120 million Americans are missing at least one tooth. If you've lost a tooth or two, your self-esteem was likely lost along with them, but that's not to only concern. Every tooth is invaluable to your oral and general health. Thankfully, you can enjoy a complete smile again with a dental bridge and crowns. Your new smile can last for over a decade with the right care. You can ensure your investment thrives by preventing the most common causes of dental bridge failure.
Tried-and-Proven Solution
A dental bridge has been used for generations to treat one or more consecutive missing teeth. Your dentist uses an impression of your mouth to recreate the portions of your teeth above the gum line. They are carefully crafted from all-ceramic materials to look natural. The bridge is held in place by bonding dental crowns over the adjacent teeth.
On average, a dental bridge lasts for 5 to 7 years before needing to be replaced; however, various factors affect the lifespan. With the right maintenance, you can safeguard your investment to ensure it flourishes for decades.
Causes of Dental Bridge Failure
You can enjoy a stunning smile for several years by taking certain steps to lessen the risk of complications. Although every situation differs, failure often results from:
Poor oral hygiene
Insufficient abutment teeth
Bad oral habits
Low-quality materials
Poor bone support
Irregular or absent dental care
You can reduce your risk of complications by brushing and flossing daily. Your dentist will recommend eating a healthy diet limited in sugars and starches. You'll also want to avoid chewing hard or sticky foods with the bridge.
You can safeguard your smile by stopping any bad oral habits, like using your teeth as tools or chewing on inedible objects. Besides caring for your bridge at home, don't forget to see your dentist at least twice a year for a cleaning and checkup.
Signs of Dental Bridge Failure
Even with the best care, a dental bridge will need to be replaced, eventually. It's best to see your dentist at the first sign of a complication, such as:
The bridge is loose
Pain when chewing
Tooth or gum pain and sensitivity
Unusual sensation in the mouth
Redness or inflammation of the gum tissue
Receding gum line
Your dentist can repair or replace your bridge, so you don't have to worry about any gaps in your smile. If you're interested in a permanent solution, ask your dentist about adding the support of dental implants to your treatment plan.
About Dr. Rupeshwar Renkuntla
Dr. Renkuntla has provided advanced dental services for over 20 years. After earning his dental degree in Oklahoma, he volunteered at a local clinic to support healthy smiles. He is a member of multiple professional organizations, including the American Dental Association and the Texas Dental Association. If you need a new bridge, or you're replacing your lost teeth for the first time, Dr. Renkuntla can help. Contact our office today to schedule your consultation.