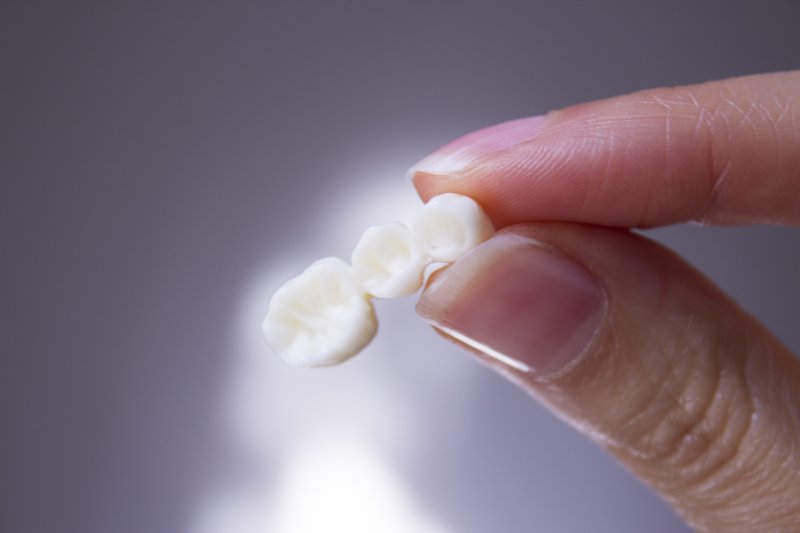 Missing teeth can affect more than just your appearance – it can impact your quality of life as well. If you have gaps in your smile, you're probably looking for ways to close them and enjoy a fully functioning grin once again. Well, dental bridges are an excellent tooth-replacement solution to consider. They promise to stand the test of time, but how long is that exactly? Read on to learn more about dental bridges, their average lifespan, and what you can do to extend it.
What Is a Dental Bridge?
A dental bridge is a custom-made prosthetic designed to replace three or more consecutive missing teeth. It's made up of two or more dental crowns that are placed on the healthy teeth on either side of the missing one, seamlessly closing the gaps in your smile.
When it comes to dental bridges, there are two types you can choose from:
Removable Bridge – It has crowns on either end that are attached to existing teeth. Even though a removable bridge is more cost-effective and doesn't require surgery, it'll need to be removed every day for cleaning and maintenance.
Fixed Bridge – You can opt for a fixed bridge that clasps to your natural teeth or one that's attached to dental implants. An implant-retained bridge provides unmatched stability because the titanium posts are surgically inserted into the jawbone.
How Long Do Dental Bridges Last?
The exact amount of time a dental bridge will last depends heavily on the patient's health and lifestyle. However, the average lifespan of this method of tooth replacement is anywhere between five to seven years. Of course, factors like good oral hygiene and routine dental visits can help your prosthetic last well over a decade! After getting your dental bridge, your dental team will explain how to care for it properly and what steps you should take to maximize its longevity.
Tips to Extend the Lifespan of Your Dental Bridge
Fortunately, there are many steps you can take to ensure your dental bridge lasts as long as possible, including:
Practice good oral hygiene. Make sure you brush twice a day, floss daily, and rinse regularly with an ADA-approved mouthwash.
Avoid bad habits. Smoking, biting your fingernails, chewing on pens or pencils, and using your teeth as tools can increase the chances of damaging your restoration.
Watch your diet. Do not eat brittle, tough, chewy, or hard foods as they can easily damage your dental bridge.
Visit your dentist regularly. Don't forget to visit your dentist every six months for a checkup and cleaning to ensure nothing is wrong!
As you can see, there is no set answer for how long dental bridges last. One of the best ways to keep your smile strong and healthy for a lifetime is by taking proper care of your teeth and gums!
About the Practice
At Saginaw Dental, we strive to treat every patient like a member of our very own family. Our team uses the latest technology and most advanced materials to ensure all patients receive the best dental care possible. If you're interested in replacing your missing teeth with a dental bridge, don't hesitate to contact our office for more information. Visit our website or call (817) 989-2832.