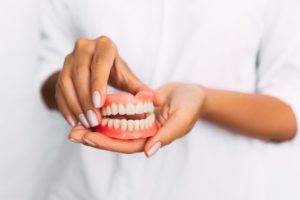 Teeth are designed to last for a lifetime; however, the American College of Prosthodontists reports that 40 million Americans have lost them all in both arches. Each tooth is important for a healthy, functional smile, but your dental health also affects your general wellness. Various oral health issues are linked to certain medical problems, like gum disease's connection to heart disease. Tooth loss can also affect your health. Although dentures have been used for generations to treat tooth loss, new research suggests they can cause nutrition concerns. Don't worry, your dentist has the solutions you need to maintain a healthy mouth and body. 
Missing Teeth, Dentures, and Nutrition
Complete tooth loss is often a gradual process. A missing tooth can lead to several lost teeth quickly because you lose bone density in your jaw. Without the roots stimulating the bone, it will shrink slowly. You can lose 25% of your jaw's density within the first year of losing a tooth, which will continue as time goes on. As your jawbone shrinks, any remaining teeth don't have adequate support. As they drift from their positions, they can loosen and fall out.
As you lose more teeth, your confidence isn't the only thing that declines. It can become impossible to eat certain foods, like meat. Over time, this can lead to nutritional deficiencies that can harm your health.
Dentures replicate the surfaces of your natural teeth by resting on top of your gum tissue. This allows you to regain a confident, complete smile to enjoy a variety of foods to stay healthy. However, the Journal of Prosthodontics reports denture wearers to have a significant reduction in certain nutrients after 2 years of wearing the prosthetics.
Although further research is needed, nutritional deficiencies can be linked to poorly fitting dentures. Your jawbone and gums will continue to change shape over the years. Without regular adjustments, they can slip or cause irritation. It becomes normal to avoid certain foods to prevent inflammation, sores, or pain.
Support Your Overall Wellness
Tooth loss doesn't have to be a lose/lose situation for your oral or overall health. Dentures are an effective method of rebuilding a complete smile. While they can't stop your jawbone from deteriorating, they can allow you to maintain a balanced diet with the right care at home and from your dentist. Don't ignore slipping dentures. Visit your dentist regularly to have them relined or replaced to maintain a snug fit to enjoy all your favorite foods.
If you want to eliminate slipping and irritation for good, ask your dentist about adding the support of dental implants. You can preserve your jawbone and regain up to 70% of your natural biting force using a nearly perfect replica of your real teeth.
About Dr. Rupeshwar Renkuntla
Dr. Renkuntla earned his dental degree in Oklahoma after working as a dental assistant for many years. He is committed to helping each patient achieve the smile they deserve. As a member of the American Dental Association and Texas Dental Association, he has the qualifications you can trust. Contact our office today to request your consultation.