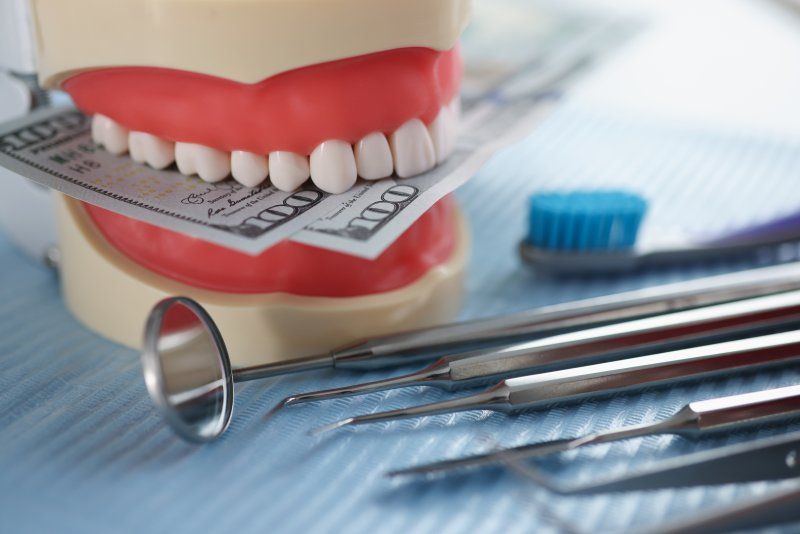 When you get dentures to restore your smile, you want them to be cost-effective. After all, there's no reason to spend money on a procedure that doesn't work correctly. That said, it isn't always easy to find replacement teeth that strike the right balance of quality and price. How should you assess the cost of dentures to find ones right for you? As it turns out, your local dentist has the answer. When deciding on your restorative treatment, remember to weigh these three factors in dentures' cost.
Denture Type
Of course, the price of your dentures will partly depend on how many teeth you're replacing.
To replace all your teeth, a complete denture is necessary. As you might expect, it's more costly due to being a full restoration.
On the other hand, you only need a partial denture if you're just replacing a few. This type only restores select teeth and locks onto the natural ones you still have. Given that it's a partial restoration (hence its name), this denture usually doesn't cost too much. However, different partials can vary in price.
Denture Material
Treatment cost also depends on the materials used in your dentures.
The cheapest ones rely on a brittle plastic colored pink for the base and white for the teeth. As a result, these dentures' teeth wear down with use. Plus, their bodies crack easily and often don't fit well. Plastic dentures usually need to be replaced every couple of years.
Meanwhile, the most expensive dentures have acrylic bodies with special teeth made from acrylic or porcelain. Consequently, they're stronger, look more natural, and last 5-7 years on average.
Treatment's Location & Specialist
Dentures' prices can also shift based on the location and specialist involved. Sometimes dental practices in different places may charge varying amounts. It could be due to labor costs, influences from the market, and so on. That being the case, it's essential to do your research before letting a dental professional work on your teeth.
So long as you keep the above factors in mind, you'll likely find affordable dentures that meet your needs. Still, feel free to talk to your local dentist about other concerns you have on your treatment plan's price.
About the Practice
Saginaw Dental is based in Saginaw, TX. As led by Dr. Rupeshwar Renkuntla, their team seeks to provide dentistry that's second-to-none. To that end, they offer the best possible preventive, cosmetic, and restorative dental treatments, including emergency procedures. The staff is highly trained and equipped with the latest dental technology, so excellent results are guaranteed. For more information or to book an appointment, they can be reached at their website or by phone at (817)-989-2832.