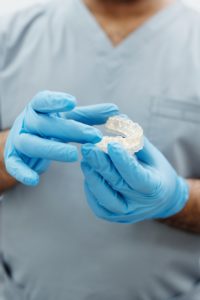 Everyone deserves to have a healthy, straight smile; however, you may not want to deal with the visibility or restrictions of metal braces. You don't have to worry about compromising your appearance with brackets and wires thanks to clear aligners. They are worn over your teeth to move them into their best positions gradually using a virtually undetectable method. Although you might have heard of Invisalign, there's another option. ClearCorrect may look like Invisalign, but there are differences between the two. Here's what you need to know to make the best choice for your smile. 
How Do Clear Aligners Work?
Both Invisalign and ClearCorrect use the same technique to correct bite and alignment issues. Your dentist creates a series of aligners, which are worn over your teeth for at least 22 hours per day. Each aligner will move your teeth in small increments. You'll switch to the next aligner in the series after 1 week.
Both methods are effective for treating a variety of alignment issues and offer overlapping benefits, including:
Discreet, sophisticated appearance
Comfortable, custom-fit aligners
Easy maintenance and care
No dietary restrictions
Fewer trips to the dentist
Invisalign VS ClearCorrect
Although there are many similarities, there are also differences you'll need to consider, such as:
Cost: ClearCorrect is advertised as being cheaper than Invisalign, but various factors affect the cost, like the complexity of your case and dental insurance. Your dentist will offer several solutions to keep either treatment within your budget.
Materials: Invisalign uses a material called SmartTrack, which is supported by over 8 years of research and testing. Many people report SmartTrack aligners to be comfortable and easier to remove. ClearCorrect uses a thinner material that makes them more discreet than Invisalign. However, they are more prone to breaking because of their sleek design.
Success: The FDA approved Invisalign in 1998, while ClearCorrect wasn't until 2009. Despite the decade difference, both are effective when choosing a qualified and experienced dentist who specializes in plastic orthodontics.
Timeline: ClearCorrect offers 3 treatment options with timelines varying from 6 to 12 months, but they also have an unlimited plan. The average treatment with Invisalign is also 6-12 months. Multiple factors will influence the duration of your treatment, like the number of aligners needed and compliance with your plan.
Your dentist will review the pros and cons of each option during your initial consultation for clear aligners. They'll help you choose the best solution to improve your alignment and bite. Rest assured, you'll benefit from a nearly invisible solution to achieve your best smile.
About Dr. Rupeshwar Renkuntla
Dr. Renkuntla earned his Bachelor of Dental Surgery in India before coming to the U.S. He worked as a dental assistant and volunteered his time at a local clinic while working toward his Doctor of Dental Surgery. He is a proud member of various professional organizations, including the American Dental Association. If you're interested in a straight smile, contact our office today to request your consultation for clear aligners.