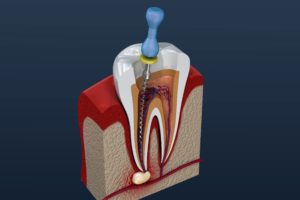 If you have a badly damaged or infected tooth, your dentist can save it from extraction with root canal therapy. According to the American Association of Endodontists, 25 million procedures are performed annually. With over a 95% success rate, it is a wise choice to preserve your natural smile; however, no one has time for a long treatment process. Don't worry, you don't have to sacrifice your tooth if your schedule is busy. Here's how long it will take to rehabilitate your smile.
Timeline for Root Canal Therapy
After your initial consultation, your dentist will create a personalized treatment plan to extract the inner layer of your tooth, called the pulp. Your tooth will be disinfected and sealed with a special material called gutta-percha. On average, root canal therapy takes 30 to 90 minutes, but every situation differs depending on which tooth is being treated. As a result, your timeline may vary when treating:
Molars: The back teeth can have up to 4 roots. Each will need to be cleaned out, so you can expect the procedure to take about 90 minutes.
Premolars: Premolars only have 1 to 2 roots, so the process is a little quicker. Generally, 45 to 90 minutes is enough time to complete the procedure.
Incisors and Canines: Smaller teeth only have one root. Therefore, you can be out of the dental chair in about 30 to 60 minutes.
It's not unusual for a dental crown to be used along with root canal therapy. Placing a customized cap over the surface of the tooth will give it an added layer of protection while restoring its function and appearance. If you require a crown, you'll need a second appointment.
Process for Getting a Dental Crown
After your root canal, your dentist will prepare your tooth for the restoration. It is reshaped to allow the crown to fit over it like a glove. Your dentist will then take a digital impression to get the information necessary to create your crown. It can take the dental lab a couple of weeks to craft your restoration, so they'll apply a temporary one while you wait. Once your permanent crown has been sent back to the dental office, you'll return to have the temporary one removed and your final restoration cemented to your tooth.
Although you'll require another appointment, your restoration will be made of all-ceramic material to look and feel natural. It will be worth the wait to benefit from a restoration that blends in with your smile. You'll preserve your tooth to avoid the hassles of tooth loss with a root canal and crown.
About Dr. Rupeshwar Renkuntla
Dr. Renkuntla achieved his dental degree in Oklahoma after volunteering as a dental assistant. He regularly pursues advanced education to provide the most up-to-date services, like root canal therapy. He combines the art and science of dentistry to deliver exceptional care. As a member of the American Dental Association and Texas Dental Association, he has a reputation you can trust. If you need a root canal, contact our office today to request your consultation.