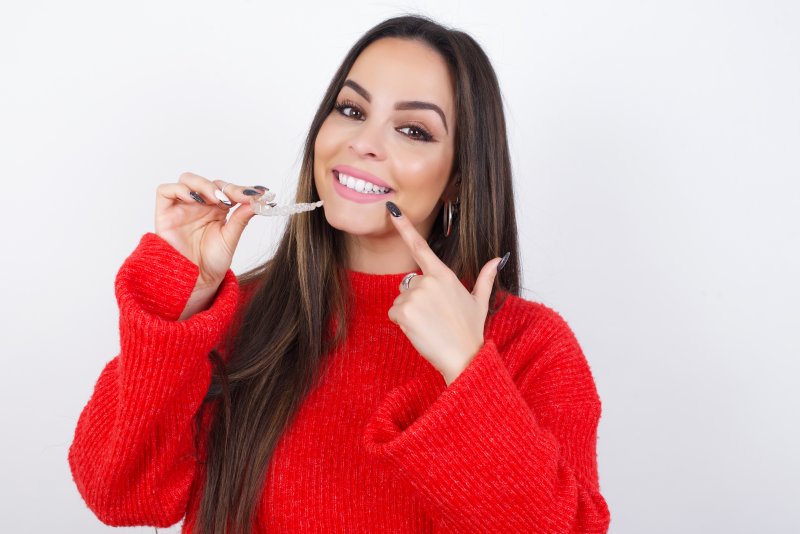 Over the years, clear aligners have become an incredibly popular way to straighten one's smile. They are a popular replacement for braces since they are nearly invisible, therefore less visually invasive. Clear aligners are also removable, which makes it much easier to clean your teeth and eat almost anything you want without issue. ClearCorrect is a type of orthodontic treatment that uses these trays to quickly and discreetly straighten your pearly whites. Each tray is worn for several months or years and gradually shifts your teeth into a better position. If you are currently undergoing this treatment or are preparing to start, read on to learn 5 tips to care for your trays.
Tip #1: Clean Your Aligners Regularly
Cleaning your clear aligners on a regular basis is key to preventing them from looking cloudy or developing an odor. ClearCorrect needs to be worn for at least 20-22 hours each day to be as effective as possible. Bacteria will begin to accumulate on them throughout the day, and not cleaning them properly allows that bacteria to attack your smile. Clean your trays daily to avoid this and to keep them looking clear.
Tip #2: Soak Your Aligners Daily
Along with cleaning your aligners, you also need to soak them daily. The best way to do this is by:
Step 1: Add denture or aligner cleaner into a cup of lukewarm water
Step 2: Soak your trays for 15 minutes
Step 3: Gently brush them to remove any caked-on plaque or food
Step 4: Give your clear aligners a quick rinse before putting them back on
Tip #3: Remove Your Aligners Before Eating or Drinking
Before consuming anything other than water, be sure to remove your ClearCorrect trays. Neglecting to do so might lead to damage or staining. Only do this when eating or cleaning your teeth to ensure that you'll reach your 20-22 hour per day wear time.
Tip #4: Store Your Aligners Properly When Not in Use
Make sure to store your clear aligners the proper way when you aren't wearing them. Many people are inclined to put them on a napkin when they are preparing to eat a meal, but this can cause you to lose track of them or accidentally throw them away. Instead, store them in a carrying case. This will keep your trays safe from harm and will also prevent you from accidentally throwing them in the trash.
Tip #5: Brush and Floss Before Putting Your Trays Back In
Another key part of keeping your aligners in good condition is to clean your teeth after every meal. Doing this will help prevent staining. It will also keep food from getting stuck behind your trays, which raises your chances of developing cavities.
The above tips should help make your ClearCorrect treatment easier to get through. By taking good care of your aligners, you can keep your smile looking healthy and bright for years to come!
About the Practice
Saginaw Dental is led by Dr. Rupeshwar Renkuntla. He is a dentist based in Saginaw who is dedicated to offering patients in the DFW area high-quality, effective treatments to keep their smiles looking lovely. For those looking to straighten their smiles, he offers Clear Correct to move your pearly whites into a better position for a gorgeous grin you'll love. To make an appointment with Saginaw Dental or for more information about caring for clear aligners visit their website or call their office at (817) 989-2832.