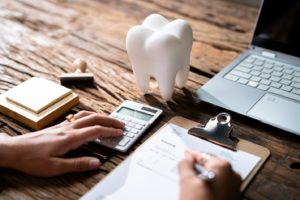 Navigating the details of any given dental insurance plan can be a challenging task; the language isn't always clear or easy to decipher, and without assistance it's quite possible that you might end up losing out on benefits you didn't even know you had! Keep reading to learn a little more about PPO and HMO plans, two of the most common types of dental insurance plans.
What Are the Main Differences Between HMO and PPO Plans?
There are a few important features that distinguish HMO plans from PPO plans. HMO stands for "Health Maintenance Organization", and these plans restrict coverage to a predetermined group of dentists, known as a network. If you have an HMO, you must see these providers in order to get coverage from your insurance.
PPO stands for "Preferred Provider Organization", which means that you can see virtually any practice of your choosing and you aren't restricted by your insurance company. Both PPOs and HMOs come with drawbacks, but it's important to weigh what pros and cons are most important to you. For example, PPO plans are usually more expensive, but they provide you with the freedom to choose a dentist that you trust and want to go to, whether they're in or out-of-network. On the other hand, HMO plans tend to be more affordable, but they'll likely only cover out-of-network visits if they're considered an emergency.
What Treatments Are Covered by HMO and PPO Plans?
It's worth mentioning that most dental insurance plans operate on a 100-80-50 structure, meaning they might cover 100%, 80%, or 50% of a certain procedure. The best way to learn what your individual plan covers, no matter whether it's an HMO or PPO, is to contact your provider directly. That said, some of the common treatments often covered include:
Preventive dental care, including services like checkups and cleanings, X-rays, fluoride treatments, and sealants are typically fully covered by insurance.
Fillings, root canals, and tooth extractions are normally only partially covered by PPO and HMO plans after your deductible has been met.
Crowns, bridges, dentures, and other oral surgery procedures may be covered up to a certain amount depending on your plan.
Knowing the specifics of your dental insurance plan will serve you well, and whether it's a PPO or HMO plan, you can rest assured knowing that you have access to several awesome benefits that help both your smile and your wallet.
About the Author
The team at Saginaw Dental is thrilled to serve patients and families in the Saginaw community under the leadership of Dr. Rupeshwar Renkuntla. Dr. Renkuntla has a passion for providing an exceptional level of dental care and would be happy to assist you with your oral care needs. If you have any questions about the article or would like to arrange a visit, you can contact the practice online or by phone for assistance: (817) 989-2832.