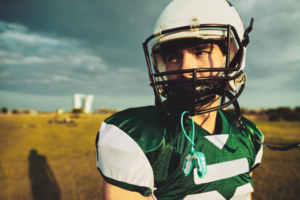 Dental implants are considered the gold standard for replacing missing teeth; not only do they restore lost pearly whites in terms of look and feel, but they also provide a full level of functionality to the newly restored smile. That said, dental implants are an impressive and tempting solution for virtually all patients with missing teeth—but especially athletes! Here's more about how athletes can greatly benefit from restoring their smiles with dental implants.
Why Missing Teeth Need to Be Replaced Quickly
Missing teeth are quite problematic, regardless of whether the injury was caused during sports or not. Lost teeth create gaps in a person's smile, and the remaining teeth that are adjacent to these gaps can slowly shift toward them and eventually fall out themselves. This can lead to an unfavorable domino effect that slowly subtracts teeth from your smile; however, dental implants can directly counter this by restoring the entire structure of lost teeth.
How Athletes Can Benefit from Receiving Dental Implants
The American Dental Association has published research that indicates roughly 13% to 39% of all dental injuries result from high-impact sports; this means that all it takes is one collision with your competitor to send your smile into a state of disarray! And in the case of missing teeth, a dental implant is arguably the best option for replacing the tooth and restoring the functionality of one's smile.
Dental implants offer several unique advantages that directly benefit athletes and offer a more natural quality of life improvement compared to other tooth replacement options. For instance, solutions like a flipper or a denture will need to be removed prior to games or sporting events, and a dental bridge is easily capable of cracking or breaking.
Dental implants are strong and sturdy thanks to how they're surgically embedded within the jaw, meaning that an athlete won't have to worry about removing them before competing. Though you'll want to check with your provider beforehand, most patients with healthy jawbones are capable of receiving dental implants and resuming their sport once things have healed up.
Aftercare Tips for Athletes with Dental Implants
Even though dental implants are designed with the future in mind, it's worth noting that they can still fail prematurely if you don't take care of them. That said, here are some aftercare tips to ensure your new smile serves you well:
Maintain excellent oral hygiene by brushing, flossing, and rinsing daily. A healthy mouth will foster an ideal environment for your implants to thrive.
Wear a mouthguard to safeguard your smile! Once you're back to playing sports or exercising, it falls on you to protect your new pearly whites from injury. Dental implants can still become compromised if they suffer an injury due to physical impact.
Visit your dentist regularly for preventive care; these visits allow your provider to inspect your implants to make sure they're still intact.
About the Practice
The team at Saginaw Dental has proudly served patients and families in the Saginaw, TX community for several years under the leadership of Dr. Rupeshwar Renkuntla. They offer a comprehensive range of services including tooth-restoration options like dental implants. If you have any questions about implants or would like to arrange a consultation for you or a loved one, you can contact the practice online or over the phone for further assistance: (817) 420-7634.