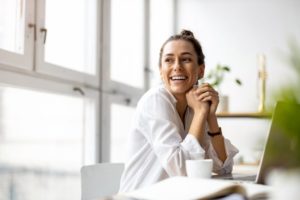 Over your lifetime, you'll use your teeth to complete both basic daily tasks like eating and speaking as well as habits you might not consciously be doing, like teeth grinding and nail-biting. Naturally, your smile is bound to look worn and used, signaling to others that it has seen better days. If your misalignment, decay, damage, or staining is causing you to look older than you actually are, cosmetic dentistry can help restore your youthful appearance. Read on for four ways addressing smile imperfections with custom-tailored cosmetic treatments can help you look younger.
Prevent Sagging or Hollow-Looking Cheeks
Restorative treatments like full and partial dentures and dental implants may not be considered cosmetic, but they have countless esthetic benefits you'll be able to enjoy. Whether you're missing one, several, or all of your teeth, tooth loss is often associated with aging. Because of this, leaving gaps in your smile may lead to declining emotional and psychological health as well as other unwanted effects, like sagging and hollow-looking cheeks. Rebuilding your grin can not only reverse these, but also help rejuvenate the look and feel of your smile.
Address Damage Without Highlighting It
In the past, dentists would use materials made of metals to fill cavities and rebuild and strengthen damaged and severely misshapen teeth. Today, dentists utilize natural-looking materials like zirconia, composite resin, and ceramic to craft crowns and fillings from. This helps camouflage dental health problems instead of highlighting them, making your smile look like new again.
Close Gaps & Solve Misalignment
As an adult, orthodontic problems like malocclusion, misalignment, and crowding can decrease your confidence. In the past, fixing these issues meant dedicating yourself to wearing metal brackets and wires for possibly years at a time. Today, you can choose a more appealing treatment method that's discreet, comfortable, and provides similar results, called ClearCorrect. The smooth, plastic aligners allow you to maintain your professional appearance, all while getting the youthful, symmetrical smile you've always wanted.
About the Author
Dr. Rupeshwar Renkuntla has over two decades of experience in the dental field. He's most passionate about helping his patients achieve their ideal smiles. He provides custom-tailored cosmetic dentistry that can address a wide range of aesthetic flaws, from dental staining to cracked and misaligned teeth. For questions or to schedule a consultation, visit Saginaw Dental's website or call 817-989-2832.